Be prepared for when disaster strikes

91% of pet owners are unprepared for a natural disaster.
The effects of a natural disaster can be devastating to both people and pets. Unfortunately, the majority of pet owners aren't equipped for an emergency. A 2018 survey conducted by Banfield Pet Hospital® revealed 91 percent of pet owners are not prepared for the next natural disaster.
We want to help pet owners be prepared for when — not if — the next disaster strikes. Consider making a kit at home with the essentials, including a waterproof bag filled with a blanket, dog or cat treats, stress-reducing products, collapsible water bowl, important documentation like veterinary records, microchip information, and a contact list of the nearest shelters and emergency clinics. Use the resources below and be prepared!
---
Banfield Foundation® and TV personality Sean Lowe team up
Raising awareness about disaster preparedness for pet owners
Make a plan
In addition to a disaster kit with supplies, it's important to have a plan in place so you know what to do during and after a disaster. Banfield Pet Hospital has tips and other proactive measures you can take to help keep your pet safe if the unthinkable happens.
Mobilizing disaster relief
Texas A&M Veterinary Emergency Team (VET)® is the largest, most sophisticated veterinary medical disaster response team in the country. Banfield Foundation is the sole funder of their new state-of-the-art mobile veterinary unit. See a virtual tour of the truck that serves vulnerable pets in their time of need. In an effort to ensure coast-to-coast support, the Banfield Foundation also funds two disaster relief vehicles with American Humane — one of which is permanently stationed in the Northeast and the other in Los Angeles — both designed to deploy in the aftermath of disasters to aid impacted pets.
In addition, pet owners who are forced to evacuate during a disaster often have difficulty finding pet-friendly accommodations, which is why the foundation provided a grant to the Louisiana Department of Agriculture and Forestry to purchase and equip a new mobile sheltering vehicle that can house up to 65 pets during an emergency or natural disaster.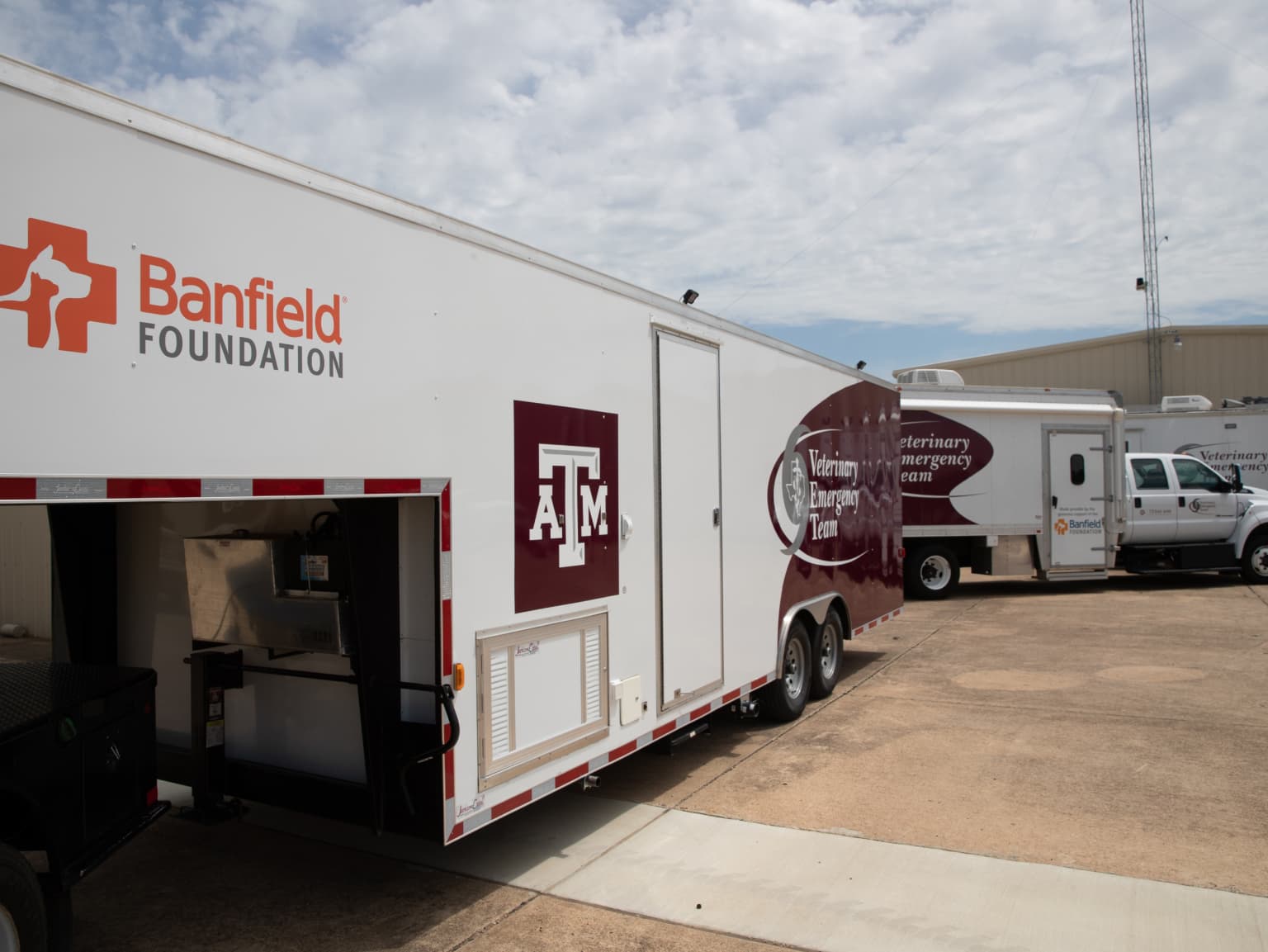 Donate now
Help our efforts to provide veterinary care for pets in need, critical medical equipment for shelter and rescue organizations, shelter and disaster relief, resources for survivors of domestic abuse to transition to safety with their pets, and more.
All donations are 100% tax deductible.
Donate to the Banfield Foundation