Vancouver, WA April 18, 2023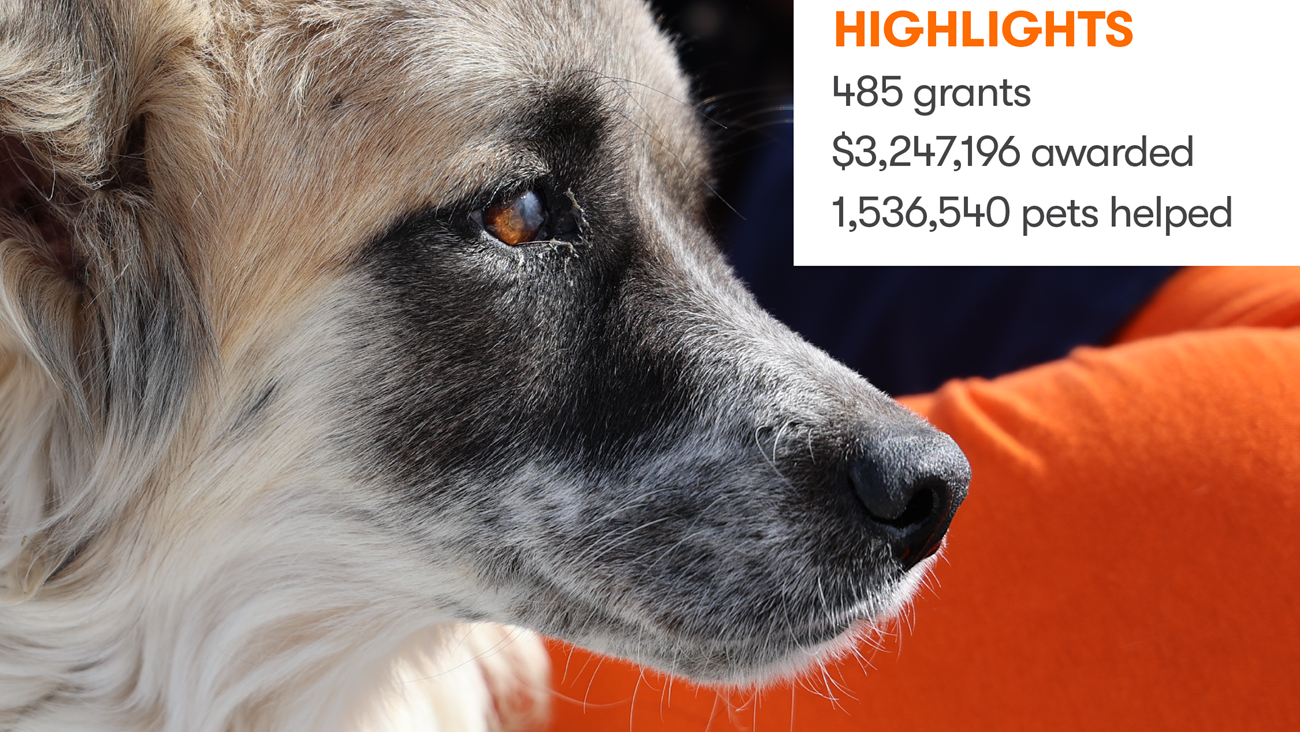 Report Highlights 1.5M Vulnerable Pets Helped and 485 Grants Awarded to Expand Access to Veterinary Care, Resources and Medical Equipment to Reach Underserved and Diverse Communities
VANCOUVER, WASH.—April 18, 2023—Banfield Foundation, a 501(c)(3) nonprofit organization and the charitable arm of Banfield Pet Hospital®, today released its 2022 annual Impact Report detailing how it helped make veterinary care, temporary shelter and disaster relief possible for nearly 1.5 million pets.
The 2022 report outlines how the Banfield Foundation meaningfully delivered on its mission of making preventive care possible for the pets that need it most. Amid a national shortage of veterinary professionals, the need for access to care has significantly increased. In 2022, the Foundation focused on deploying resources, teams and dollars to help families care for and keep their pets, lowering the financial and geographic barriers that negatively impact the human animal bond.
In addition to its innovative grant programs, the Foundation leveraged its relationship with Banfield Pet Hospital and Associates throughout the Mars Veterinary Health and Mars Petcare ecosystem to deploy teams of compassionate professionals to underserved and diverse areas across the United States and around the world through the Mars Ambassador Program (MAP) and the Foundation's own Care Knows No Boundaries travel grant program.
"Expanding access to veterinary care takes shape in many ways. At the Foundation it means increasing grant funding and resources to partners who travel hundreds of miles to remote areas to bring free or low-cost care where there is none. It also means mobilizing teams to deliver care to inner-city communities where pet owners often lack resources," said Kim Van Syoc, Executive Director, Banfield Foundation. "No matter the geographic location of pet owners, we know the demand for care is outpacing the supply—especially for pet owners facing financial barriers. Our goal for 2022 was simple—we wanted to bring more care to more pets in more places and that is exactly what we accomplished."
Highlights from the Foundation's 2022 Impact Report include:
Launching a Field Clinic Scholarship Program with RAVS
In partnership with Rural Area Veterinary Services (RAVS), a long-standing partner, the Foundation launched the Field Clinic Scholarship Program for underrepresented veterinary students and other veterinary professionals who volunteer to provide care in rural areas struggling with poverty and geographic isolation.
Creating and Hosting two Mars Ambassador Program (MAP) Assignments
In 2022, the Banfield Foundation was the creator and co-host of two MAP assignments focused on bringing veterinary care to vulnerable populations of pets alongside two nonprofit partners—Greater Good Charities' Good Fix and Arizona Humane Society. Over the course of 12 days, 16 Ambassadors from Mars Veterinary Health and/or Mars Petcare helped care for more than 2,000+ pets by spaying/neutering, vaccinating, microchipping and/or treating for illness and injury.
Expanding Preventive Care Across the Country
More than 133,000 pets received comprehensive preventive care including wellness checks, flea, tick and heartworm preventives, vaccines and more through free or low-cost clinics held in partnership with nonprofit organizations. In 2022 alone, more than $2.4 million in the form of cash or in-kind donations was provided to increase access to and affordability of preventive care across 34 states.
Responding to Hurricane Ian
Natural disasters are devastating to both people and pets—Hurricane Ian was no exception. The two Banfield Foundation-funded Texas A&M (TAMU) Emergency Veterinary Team's (VET) vehicles were deployed to Florida to support 80 urban search and rescue (USAR) dogs; the Foundation-funded University of Florida (UF) disaster response bunk unit and command vehicle was deployed to Fort Meyers, Florida where UF veterinarians, staff and students provided veterinary care in the wake of the storm.
"Beyond grants and resources, our ability to bring nonprofit partners, donors and Associates together to support pets in need is our greatest asset in making this work a reality," said Jam Stewart, newly appointed president and chairman of the board for the Banfield Foundation and head of Corporate Affairs for Banfield Pet Hospital. "As we continue and expand our commitment in 2023, we could not be more grateful for the vast community of supporters that help us deliver on the Foundation's mission of making preventive care possible for the pets that need it most."
Banfield Foundation 2022 Impact by the Numbers:
485

grants awarded to partner organizations, institutions or through HOPE Funds

133,440 pets

received preventive care: wellness checks, flea, tick and heartworm preventives, essential vaccines, and more across 34 states

$138, 865

in disaster response grants supported efforts across 12 states

1,536,540

pets helped across the United States and Puerto Rico

$3,247,196

awarded in support of our purpose work: A BETTER WORLD FOR PETS
To read the Banfield Foundation's 2022 Impact Report, learn about volunteer opportunities or make a donation, visit BanfieldFoundation.org.
About the Banfield Foundation®
Since 2015, Banfield Foundation has been making preventive care possible for the pets that need it most. Through grants and partnerships, we provide medical supplies and resources to nonprofit partners in need; support pets, people and communities in crisis; and enable veterinary professionals to deliver compassionate and inclusive preventive veterinary care in underserved and diverse areas across the United States and around the world. We also leverage the expertise and passion of Banfield Pet Hospital, part of Mars Veterinary Health, and its Associates to care for pets in need. At the Banfield Foundation, we are committed to living our collective purpose: A BETTER WORLD FOR PETS. For more information, visit BanfieldFoundation.org.
###
Donate now
Help our efforts to provide veterinary care and critical medical equipment, shelter and disaster relief, and more. All donations are 100% tax deductible.
Donate to the Banfield Foundation