Vancouver, WA February 22, 2017
"Banfield Pet Hospital's charitable arm to fund additional veterinary medical units."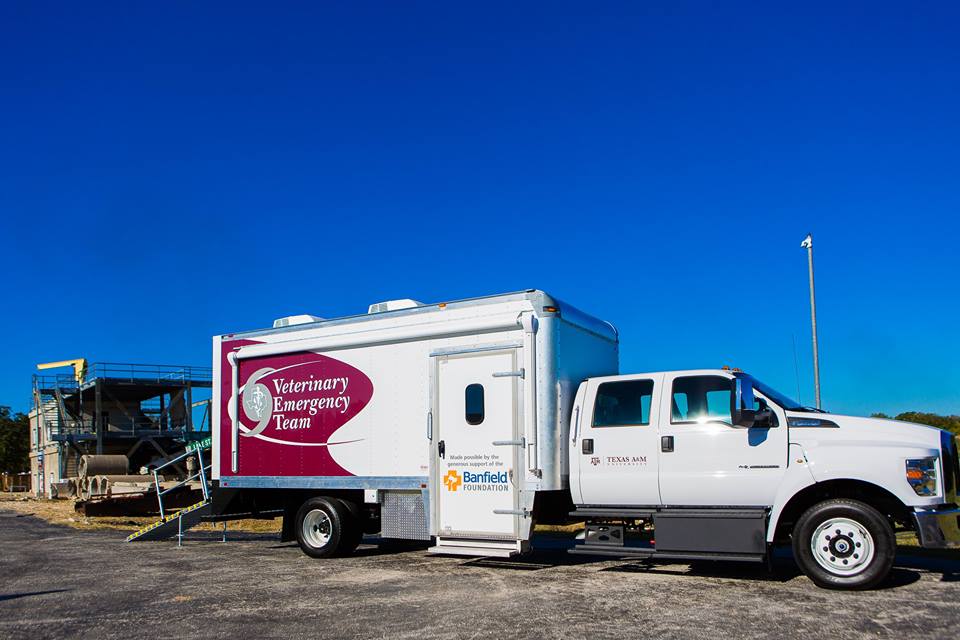 Banfield Foundation®, a 501(c)(3) nonprofit organization, today announced plans to provide disaster response grants to fund two new veterinary medical units: one for the operations of American Humane's new west coast animal rescue truck and another for the Texas A&M University Veterinary Emergency Team (VET)®'s first-ever fully equipped truck-based veterinary medical unit.
The American Humane and Texas A&M University VET rescue truck grants are the latest in a series of disaster relief efforts the Banfield Foundation has supported since its inception. In 2016, the Banfield Foundation launched its Disaster Relief Grant program. Available to nonprofit animal organizations and local or state governments whose communities suffer the impact of disasters, the grant has already made a positive difference, funding such efforts as veterinary care for pets impacted by wildfires and pet relocation following catastrophic flooding.
"Disaster relief is central to the Banfield Foundation's purpose of improving the well-being of pets and communities. I know firsthand as a result of my experience with Superstorm Sandy how devastating these types of events can be and am proud that the foundation continues to make disaster response a priority," said George Melillo, VMD, Banfield Foundation board member and Regional Medical Director at Banfield Pet Hospital®. "We are honored to expand our impact in California, Texas and surrounding communities by supporting two exceptional organizations in providing care for those who need it most."
Texas A&M University VET's 25-foot truck will expand the group's medical-response capability in support of companion animal health and welfare. In times of disaster, the medical unit will enable high-quality, efficient treatment of even more pets—and expedited return to their owners.
"We are grateful to the Banfield Foundation for providing a disaster response grant to our Veterinary Emergency Team that will enable our team to continue providing veterinary care for animals impacted by disaster in their communities," said Dr. Eleanor Green, the Carl B. King dean of veterinary medicine, Texas A&M University. "Innovation and education are at the heart of all we do in the Texas A&M College of Veterinary Medicine & Biomedical Sciences, so the vehicle made possible by the Banfield Foundation's grant will ensure effective and focused state-of-the-art care for pets and their owners in times of disaster."
In addition to helping fund the operations of American Humane's new west coast animal rescue truck, the Banfield Foundation also announced plans to renew funding for its northeast rescue truck for the second consecutive year. Outfitted to provide an array of emergency services for pets and families throughout the Northeastern United States in times of disaster, the foundation-funded truck came to the rescue in the aftermath of flooding in West Virginia and Louisiana last year, helping more than 5,000 pets in need.
"Banfield Foundation's longtime commitment to helping those in greatest need has meant a huge difference in the lives of thousands and thousands of animals caught in disasters and cases of unimaginable cruelty and abuse," said American Humane President and CEO Dr. Robin Ganzert. "American Humane, our hundreds of nationwide volunteer rescuers, and the animals who so desperately need our help thank the Banfield Foundation for its continued lifesaving support!"
About the Banfield Foundation®
At the core of the Banfield Foundation, a 501(c)(3) nonprofit organization, is the belief that all pets deserve access to veterinary care. In support of this belief, the foundation funds programs that enable veterinary care, elevate the power of the human-animal bond, provide disaster relief for pets, and advance the science of veterinary medicine through fostering innovation and education. It also leverages the expertise and passion of Banfield Pet Hospital® associates to care for pets in need. At the Banfield Foundation, we are committed to making a better world for pets because they make a better world for us.
Donate now
Help our efforts to provide veterinary care and critical medical equipment, shelter and disaster relief, and more. All donations are 100% tax deductible.
Donate to the Banfield Foundation