Vancouver, WA May 30, 2017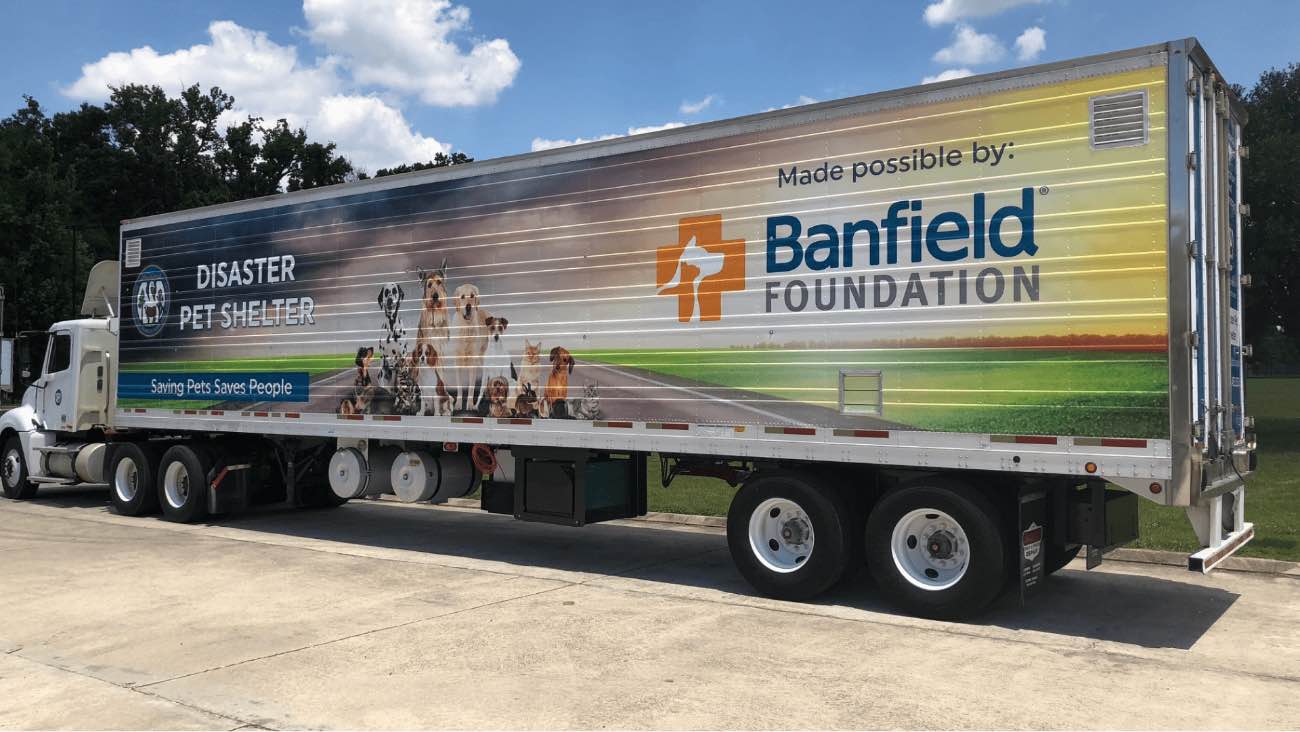 "New grant to Louisiana Department of Agriculture and Forestry enables second mobile pet shelter for emergencies."
Banfield Foundation®, a 501(c)(3) nonprofit organization, today announced the funding of the Louisiana Department of Agriculture and Forestry's (LDAF) second mobile pet shelter for emergencies—the additional pet shelter is made possible through a $72,100 grant.
The LDAF is designated by the Louisiana Homeland Security and Emergency Assistance and Disaster Act to evacuate, transport and shelter household pets during declared emergencies.
LDAF Commissioner Mike Strain, D.V.M., said, "We are appreciative of the Banfield Foundation's grant which will assist in our efforts to co-locate people and their pets during evacuations. When sheltering evacuees, having a place to co-locate their pets is a source of comfort for them knowing their pets are safe, secure and located nearby." Strain added, "The evacuation, transportation and sheltering of household pets during disasters has proven to become necessary as a lifesaving measure. In the past, victims have refused assistance unless their pets were accommodated."
"Last year, we saw first-hand the devastating impact of the floods in Louisiana, and we couldn't be more proud to partner with the Louisiana Department of Agriculture and Forestry on this effort to ensure more pets can be protected in the future," said Marta Monetti, president and chairman of the Banfield Foundation Board of Directors. "We understand the deep connection between pets and their owners, and are glad to know that this partnership will keep more of them together during disaster responses."
The second LDAF mobile pet shelter will be constructed similarly to the first one which was rolled out during the 2015 hurricane season. It will consist of a 45-foot transport truck with 54 assembled pet cages and staff to assist parishes with the evacuation, transportation and sheltering of evacuees' pets. It will be equipped with metal cages, feed, water bowls and a wash down system. It will have an air ventilation system to provide proper air circulation and temperature for the pets.
The first mobile pet shelter was used by LDAF during the Great Flood in August of 2016. It is also used in training and at public outreach events.
In all, the LDAF can accommodate up to 3,000 pets at established mega pet shelters. The mobile pet shelter is primarily used when no-notice events, such as the August 2016 flood, occur where pet sheltering facilities are not available. It can also be used in search and rescue missions and will be available, upon request, to other states during a disaster.
The LDAF's second mobile pet shelter is scheduled to be ready for use by August 2017 which is peak hurricane season. Hurricane season begins June 1 and ends November 30.
About the Banfield Foundation®
At the core of the Banfield Foundation, a 501(c)(3) nonprofit organization, is the belief that all pets deserve access to veterinary care. In support of this belief, the foundation funds programs that enable veterinary care, elevate the power of the human-animal bond, provide disaster relief for pets, and advance the science of veterinary medicine through fostering innovation and education. It also leverages the expertise and passion of Banfield Pet Hospital® associates to care for pets in need. At the Banfield Foundation, we are committed to making a better world for pets because they make a better world for us.
Donate now
Help our efforts to provide veterinary care and critical medical equipment, shelter and disaster relief, and more. All donations are 100% tax deductible.
Donate to the Banfield Foundation