College Station, TX October 23, 2017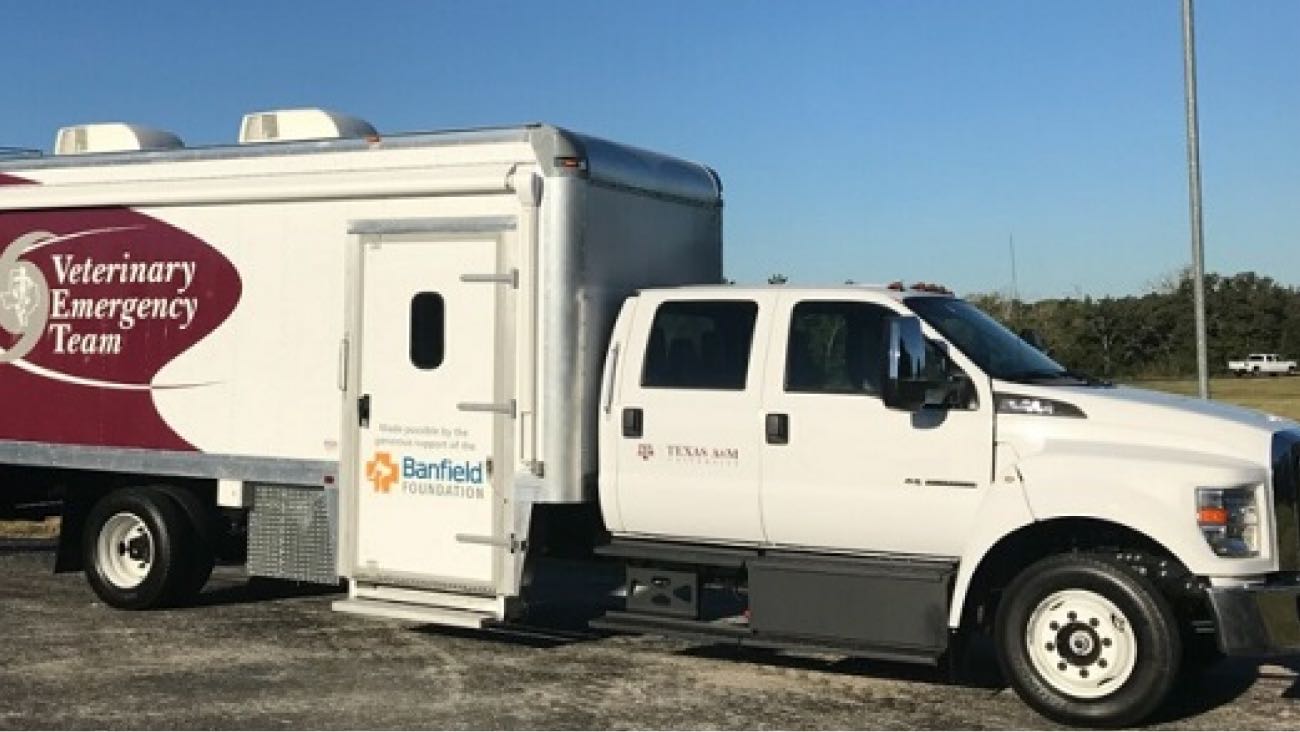 "Texas A&M's Veterinary Emergency Team expands disaster-relief fleet with first fully equipped truck-based veterinary medical unit."
Banfield Foundation, a 501(c)(3) nonprofit organization, and Texas A&M University's Veterinary Emergency Team (VET) today unveiled the university's first custom, fully equipped veterinary medical unit. The 25-foot truck, which can be deployed anywhere in the U.S., was fully funded by a grant from the Banfield Foundation and will expand the Texas A&M VET's medical-response capability in times of disaster.
As the largest and most deployed veterinary emergency response unit in the country, Texas A&M's VET is a leader in emergency preparedness education. The fully equipped veterinary medical unit—the latest addition to the team's fleet of response vehicles—will enable even more expansive and efficient rescue and treatment of pets during disasters.
"As we again experienced with the most recent tragedies across the U.S., people and their pets face emergent rescue and recovery needs during and after disasters. The new veterinary medical unit will bolster veterinary care and capabilities during those critical times," said Dr. George Melillo, Banfield Foundation board member and Vice President of Veterinary Quality at Banfield Pet Hospital®. "We have witnessed the compassion and effective care capabilities from Texas A&M's VET, and we are honored to have a part in helping the team minimize the devastating consequences of disasters and be even more prepared to care for animals in urgent need."
Custom designed by the Texas A&M VET based on its unique needs and insights from prior deployments, the new veterinary medical unit features a durable metal exterior, generator and climate-controlled tents. It is also equipped with a veterinary-grade wet table, gas anesthesia and storage for enough medical and pharmaceutical inventory to last up to 48 hours of disaster response operations. Now operational, the new unit will enable Texas A&M's VET to treat and stabilize injured pets—including large animals such as horses and cattle—and perform emergency surgeries.
When not deployed during a disaster, the veterinary medical unit will be based at Texas A&M's Disaster City®, where veterinary students and Texas Task Force, a FEMA urban search-and-rescue unit, will use it in bimonthly exercises to train for emergency situations. Fourth-year veterinary students will also spend two weeks of clinical rotation with the medical unit.
"Words can't describe the meaning of such a donation. Marking a huge step forward, the Banfield Foundation provided us a platform that's worthy of the people and animals we are responding to," said Dr. Wesley Bissett, founder and director of Texas A&M University's Veterinary Emergency Team. "Historically, animals were ignored during disasters. In their own right, they deserve our help. Coupled with the impact that saving an animal has on a pet owner who may have lost everything, that's indescribable. Banfield Foundation's support of these efforts means an incredible amount to every team member. As the largest and most sophisticated veterinary medical emergency response team in the country, this addition keeps Texas A&M and our College of Veterinary Medicine at the forefront of disaster response – in today's age, it takes this sort of partnership to pull these things off," Bissett said.
Banfield Foundation first announced plans for Texas A&M's VET truck in February 2017 as part of its Disaster Relief Grant program, which is available to nonprofit animal organizations and local or state governments whose communities suffer the impact of disasters. The program has already made a positive difference, funding nearly $725,000 since inception in 2015, including resources for pets and people impacted by Hurricane Harvey, Hurricane Irma and Hurricane Maria.
See more about our Disaster Relief Grant program
About the Banfield Foundation®
At the core of the Banfield Foundation, a 501(c)(3) nonprofit organization, is the belief that all pets deserve access to veterinary care. In support of this belief, the foundation funds programs that enable veterinary care, elevate the power of the human-animal bond, provide disaster relief for pets, and advance the science of veterinary medicine through fostering innovation and education. It also leverages the expertise and passion of Banfield Pet Hospital® associates to care for pets in need. At the Banfield Foundation, we are committed to making a better world for pets because they make a better world for us.
About Texas A&M University Veterinary Emergency Team
The Texas A&M Veterinary Emergency Team deploys the largest and most sophisticated veterinary medical disaster response team in the country. Dedicated to "Serving our state and nation every day," the team prides itself on adhering to the Aggie Core Values of response, outreach, education, research, and selfless service by developing and providing cutting-edge emergency management education, advancing knowledge in emergency-preparedness education and response, and building upon the legacy of service that is at the heart of Texas A&M University.
Donate now
Help our efforts to provide veterinary care and critical medical equipment, shelter and disaster relief, and more. All donations are 100% tax deductible.
Donate to the Banfield Foundation